The country has added jobs for 86 consecutive months -- the longest streak on record -- according to the Labor Department. Its numbers date back to 1939.
The unemployment rate has ticked down to 4.1%, the lowest level since 2000. Compare that to 10%, which it reached in October 2009, when the economy was in shambles. Experts say that the current low rate shows it won't get much better than this.
"The overwhelming evidence from the labor market is that the economy is, in fact, at full employment," says David Kelly, chief global strategist at JPMorgan Funds.
Americans seem to be shedding some recession scars. Consumer confidence is near its highest level in 17 years, fueled by a strong job market and the Republicans' long-anticipated tax reform plan, which was signed into law last week.
And jobless claims have reached their lowest level this year since 1973. The labor force was much smaller back then.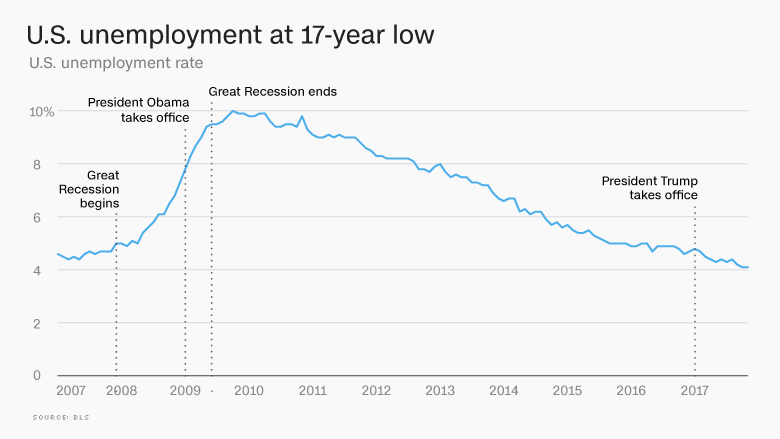 A good sign for economy: People switching jobs
Another sign of confidence: Workers are changing jobs at a record level. About 27% of private sector employees switched jobs this year, the highest level ever, according to the ADP Research Institute, a branch of the payment processor.
That makes sense -- there are 6 million job openings right now, which is just below the all-time high set earlier this year. Employees have plenty of options.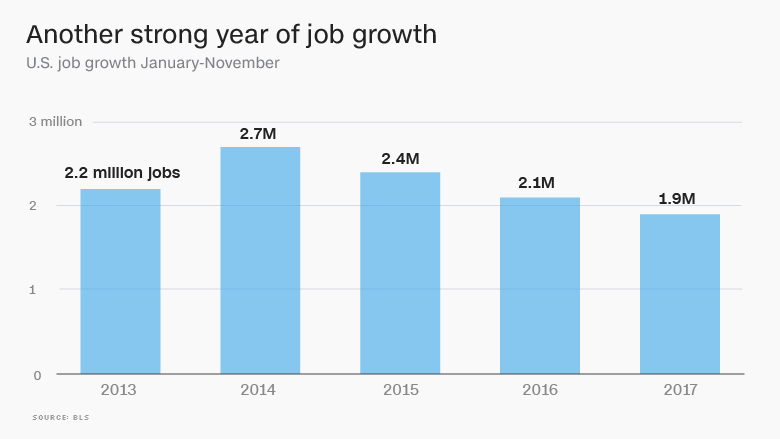 Related: What you need to know about the new tax law
Job gains, meanwhile, have come across the board. Construction added 172,00 jobs; manufacturing 171,000; financial services 128,000; transportation 96,000; and health care 267,500, according to the Labor Department's figures from January to November.
Even mining, after two years of significant job losses across the entire industry, has regained nearly 63,000 jobs.
It's not all good news. Weak spots remain
Wage growth is moving at a glacial pace: 2.5%. The Federal Reserve wants it to reach 3.5%. The slow pace of wage growth is one key reason why many Americans feel left out of the economy's recovery from the Great Recession. Although wages are rising, more than half of Americans say they're falling behind on their cost of living, according to a Pew Research survey.
Reasons behind slow wage growth include automation, globalization, low inflation and lukewarm productivity growth. However, the lack of inflation and productivity are a mystery to economists both at the Fed and on Wall Street.
Related: 34 things you need to know about the new tax law
The 6 million job openings are also a mix of good and bad news. It's good because employers are clearly hiring, and there's plenty of churn in the workplace. The bad news is that employers increasingly say they can't find skilled workers at the price they're willing to pay.
Some say wages, not job skills, are the culprit. But the future looks bright overall
Some economists say that training is great, but that low wages are the real reason why employers can't find workers. They argue that bosses need to raise salaries or lower application requirements if they're truly desperate to find good employees.
Still, these are relatively bearable problems. During the height of the recession, there were only 2.2 million job openings, which was entirely bad news for workers. America has 6.6 million unemployed workers today actively looking for jobs. Eight years ago there were more than 15 million people out of work.
"We expect that the job market will remain strong in the years ahead," outgoing Federal Reserve Chair Janet Yellen said at her final press conference earlier this month. The Fed raised rates three times this year, a sign of an improving economy.
--CNNMoney's